Duncan's dreams realised at Travelworld
8848 Agency
Through 30 years and six motorhomes, Duncan Collins has looked no further than Erwin Hymer Centre Travelworld to plot his latest luxury vehicle ownership.
A former BMW dealership owner from North London, Duncan knows more than most about delivering outstanding quality when it comes to product and service in the motor industry.
Duncan first encountered Travelworld, then based in Wolverhampton, in the early 1990s where he took his opening foray into the motorhome world by buying a Gulfstream, his first of five American motorhomes.
Travelworld made a notable impression on Duncan that day, so much so that he has remained loyal to the business ever since.
Duncan said: "When I first purchased a motorhome, Bob Edwards owned Travelworld and he was very knowledgeable about the motorhome industry.
"They had a range of models on offer and the customer service they offered was second to none.
"Some 30 years on, it's even better now. They've helped me create lots of memories because there is nothing better than exploring in your motorhome.
"We have a villa in Spain so we have made many trips there, as well as to other locations, and it's always memorable."
The values of Travelworld have remained constant over the years, with Bob handing the managing director reins down to his son Ross Edwards.
"I love supporting a family business because it always has a special feel," added Duncan.
"I bought a HYMER BMC-T 680 last July and, as soon as I discovered that Travelworld represented the manufacturer of my choice, I was only ever going to buy it from the showroom in Stafford, even though I live in north London.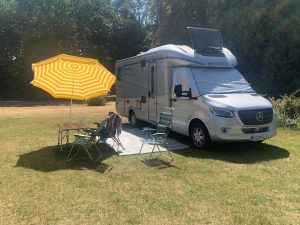 "It's a beautiful motorhome. At about 7.5m it is compact compared to my American ones, but so much more enjoyable to drive, the quality and design are fantastic.
"As soon as we purchased it, we couldn't wait to take it away. We picked it up on July 17 last year and we were on our way to Spain on July 20. For obvious reasons, our travels have been limited since then but we still managed a few weeks touring Suffolk, Norfolk, Devon and Cornwall.
"There is no feeling like being in your motorhome and that's why it's important to have a strong relationship with a trusted supplier such as Travelworld.
"I had some additional motorhome accessories fitted – automatic self-levelling, air conditioning and a rear-view driving camera – and received great service and advice. Nothing is too much trouble.
"Ross and some other members of the team there always come down to speak to me and check everything is on track – that personal touch goes a long way.
"For anybody thinking of buying a motorhome, I couldn't recommend Travelworld enough. It will always be my only port of call."