90 YEARS OF BRILLIANCE FROM DETHLEFFS
8848 Agency
This year marks a very special anniversary for one of Erwin Hymer Centre Travelworld's favourite motorhome brands.
It's been 90 years of brilliance for Dethleffs which began when Arist Dethleffs first developed a small and smart home on wheels. Nine decades of evolution and inspiration have followed to create the modern day Dethleffs motorhome – some of the most luxurious and reliable vehicles available on the market.
Here we take a quickfire look at the brand.
Dethleffs – who are they?
When people come to Travelworld and ask for our advice, we tell them Dethleffs is renowned for three features – quality, fairness and reliability.
The design has changed dramatically since its 1931 conception, but the ethos of the brand is still firmly centred around the family. The high quality and modern style of the vehicles make them ideal for all family members, from grandparents to grandchildren.
Another key pillar of the brand is fairness, so much so that Dethleffs received special recognition of its reliability and quality in the form of the German Fairness Prize for service quality in sales and after-sales care.
Dethleffs – what are they?
Every Dethleffs motorhome is carefully crafted in Germany, the spiritual home of motorhoming and a country synonymous with engineering excellence.
When it comes to design and technical refinements, the Dethleffs design engineers lead the field.
The Dethleffs Lifetime Plus body construction in many models is a sign of quality and maximum durability.
The brand also tops the charts for innovative solutions for ventilation, while industry-leading mattresses developed in Switzerland offer unbeatable comfort for a great night's sleep.
Ergonomic seats come as standard in many Dethleffs vehicles and safety also runs through the core of the brand, with driver airbags as standard and a host of driving assistance systems, including electronic stabilizing system, anti slip regulation, hydraulic brake assistance and roll-over mitigation.
Dethleffs kitchens are well-equipped and luxurious control panels make driving a breeze.
90 not out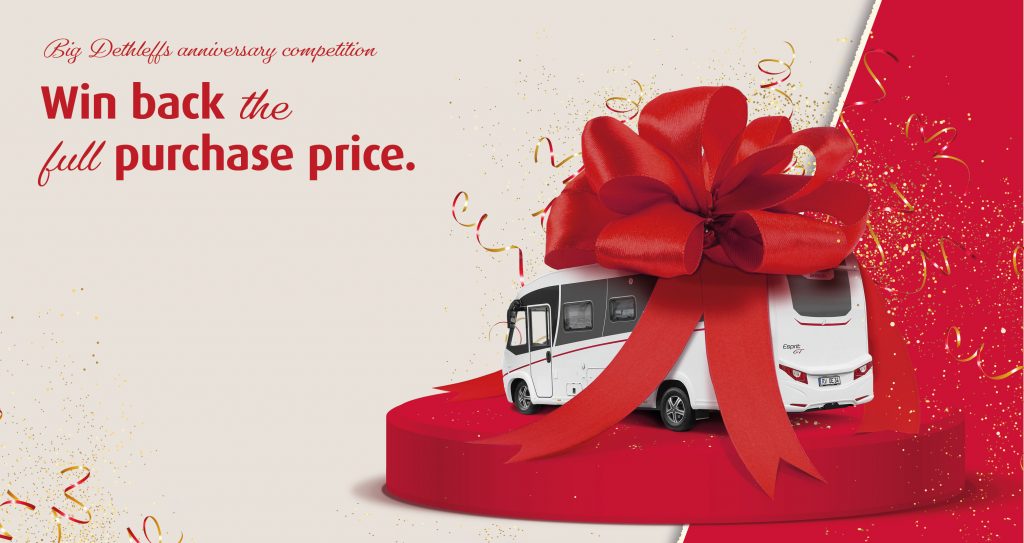 To celebrate 90 years of brilliance from Dethleffs, anyone who buys a new vehicle this year will be entered into a prize draw to receive a 100% refund on purchase price!
This is regardless of what model is bought – from compact to huge, from functional to luxurious.
Speak to our expert team for advice on which Dethleffs is right for you.